FALL NEWS – THE SEASONS ARE CHANGING!
Wait…Florida has seasons?!
Certainly! The Northwest Florida Panhandle experiences a delightful blend of weather and seasons throughout the year. Allow me to break it down for you:
Spring: In the springtime, the Panhandle starts to warm up with mild temperatures ranging from the 60s to 80s Fahrenheit (15-27 degrees Celsius). It's a fantastic time to enjoy the outdoors, as the flowers bloom, and the landscapes come alive with vibrant colors.
Summer: Ah, summer in the Panhandle is a true treat! Expect warm and sunny days with temperatures soaring into the 80s and 90s Fahrenheit (27-35 degrees Celsius). It's perfect for hitting the stunning beaches and enjoying various water activities. Don't forget your sunscreen!
Fall: Fall in the Panhandle brings relief from the summer heat but still offers plenty of warmth. Temperatures range from the 60s to 80s Fahrenheit (15-27 degrees Celsius), creating a comfortable environment for outdoor adventures. The fall foliage is simply breathtaking, painting the area in shades of amber and gold.
Winter: While the Panhandle doesn't experience harsh winters, it still offers a lovely change of pace. Winter temperatures tend to be milder, ranging from the 40s to 60s Fahrenheit (4-15 degrees Celsius). It's the perfect time to cozy up by the fireplace, explore local attractions, or indulge in some delicious seasonal treats.
Overall, the Northwest Florida Panhandle offers a wonderful climate with a mix of warm and moderate temperatures throughout the year. Whether you're a beach lover or enjoy exploring nature, you'll find something to enjoy in every season.
What are the water conditions like throughout the year?
In Panama City Beach, the water temperatures can vary throughout the seasons. Here's a general idea of what you can expect:
Spring: As spring arrives, the water temperatures in Panama City Beach start to warm up, typically ranging from the mid-60s to low 70s Fahrenheit (18-22 degrees Celsius). While some may find it slightly cool for swimming, others still enjoy taking a dip, especially on warmer days.
Summer: Ah, summertime! During this season, the Gulf waters in Panama City Beach become quite inviting, with temperatures ranging from the high 70s to low 80s Fahrenheit (25-28 degrees Celsius). These temperatures are perfect for swimming, snorkeling, or any water-based activities you might have in mind.
Fall: As the days become milder, the water temperatures in Panama City Beach tend to gradually cool down. Throughout the fall season, you can expect water temperatures in the mid-70s to low 80s Fahrenheit (23-28 degrees Celsius). It's still pleasant for swimming, especially earlier in the season.
Winter: Winter in Panama City Beach brings cooler water temperatures, typically ranging from the mid-50s to low 60s Fahrenheit (12-16 degrees Celsius). While it may be too chilly for some to swim, others who enjoy cooler waters or water sports like surfing and paddleboarding may still find it enjoyable.
Keep in mind that these are general ranges, and actual water temperatures can vary depending on various factors such as weather patterns and currents. It's always a good idea to check the local conditions or consult with lifeguards before diving in.
Condo's For Sale Around St. Andrew's State Park
FREE 3D Tours
Enough about the weather…HOW IS THE REAL ESTATE MARKET IN THE PANAMA CITY BEACH AREA?
Over the past year, the median sales price has risen from approximately $295,000 (Jan 2022) to $345,000 (Oct 2023).
The listing market has cooled off but overall back to a relative "norm" with approximately 10,000 listings in January 2022, peaking and holding around 10,500 new listings from June 2022-October 2022, and now returning and dipping around 9,200 listings in August of 2023.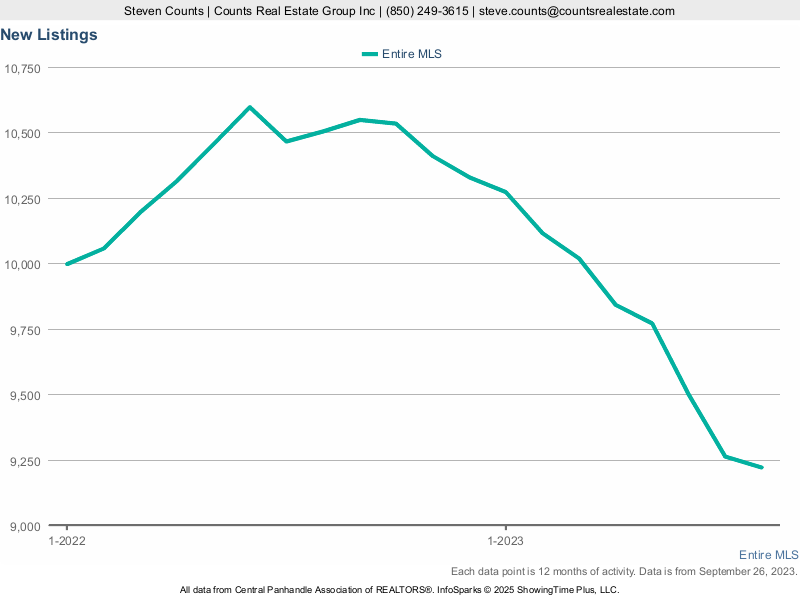 Closed Sales – 12 Month Rolling Average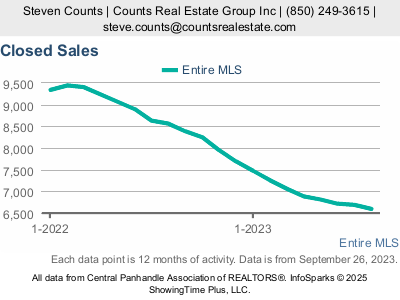 Days on Market – 12 Month Rolling Average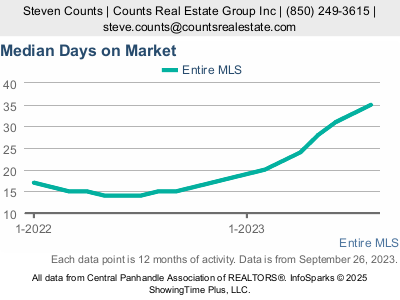 Who can help me understand all of this and get the most out of my real estate investment?!
We have MANY tools to help start your journey of finding the absolute best value of your home or investment property. You can start with our HOME VALUATION TOOL, simply CLICK HERE to get started!
We also have over 120 agents standing by, with vast knowledge and "know-how" to help guide you through your transaction. CLICK HERE to VISIT OUR AGENTS PAGE and find YOUR local real estate expert and start discovering your potential real estate value today!
Should I buy now, or wait?!
The choice is completely yours of course, but in the meantime…. why not take a look at what the market has to offer, JUST IN CASE that special gem you have been looking for is ripe for the picking! Don't know where to start? Here are a few suggestions….